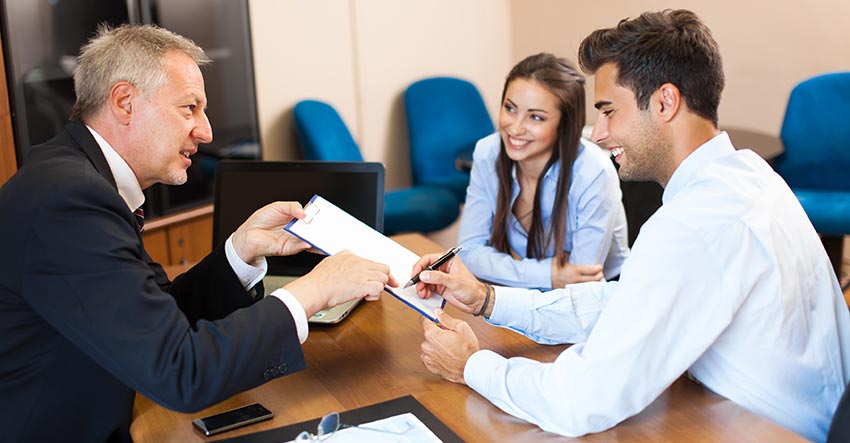 The loan process follows a general sequence for all loans. The effectiveness of each step's execution determines the speed of loan approval and closing. It is important for all borrowers to familiarize themselves with this process.
Client Consultation
We begin the process by talking with the borrower about their financial and personal goals. These answers form the foundation of the loan process because it gives our loan officers the information they need to pursue the appropriate loan product.
Loan Application
Once goals have been clearly defined, we ask the borrower to complete our loan application. This application spells out the property address, a borrower's employment history, current debt, current assets, and federal disclosures statements.
Credit Review and Repair
After the loan application is received, we run a "tri-merge" credit report, which draws data from all three credit reporting bureaus: Equifax, TransUnion, and Experian. Following careful review of the 3-in-1 credit report, Peoples Bank Mortgage consults with the borrower about a number of topics ranging from credit repair, employment verification, and asset accumulation to which loan product is best for their situation. At this time, disclosure documents (informing clients of their rights under state and federal laws) and income and asset verifications are sent via e-mail or overnight delivery. The speed with which this paperwork is returned to Peoples Bank Mortgage goes a long way in determining the speed with which the loan closes.
Loan Packaging
With the help of our processing specialists, we package the loan by gathering all the necessary information required to support the loan request. This will include a property title search, appraisal, inspection, and proof of insurance as well as the documents and disclosures returned to us from our client. Peoples Bank Mortgage may require additional information at this point in anticipation of the underwriter's request. The more complete a loan package is, the more complete the story we tell our underwriters. This, in turn, closes loans more quickly.
Clearing Conditions
The borrower will receive a list of conditions from the Underwriter that request further clarification or proof in order to clear the loan to close. These can range from proof that a certain debt was settled to additional comparable sales statistics for the appraisal.
Loan Approval!
The loan is approved and a closing is set with the closing attorney or the appropriate escrow agent. At the closing, all final documents are signed, witnessed, and notarized. The loan information is registered with the appropriate government bodies and property ownership is transferred.
Staying in Touch
Peoples Bank Mortgage keeps in touch with the borrower through a yearly mortgage review, quarterly newsletters, and personalized updates about mortgage trends that could assist the borrower in meeting their objectives in a more cost-effective manner.
Ready to Get Started?
We look forward to working with you in securing a loan. Contact us, or give us a call today at (843) 606-6058 or toll-free at (855) 406-0197 for a free consultation.